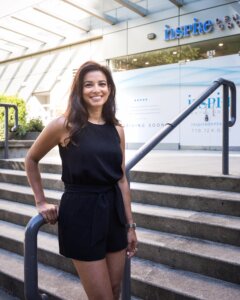 With a degree in environmental science from Queen's University near completion, Najia Bhimji pondered her options. "I considered becoming a geologist," she says. "Rock formations fascinate me, and I have always been keenly interested in the interconnectedness of Earth's processes." A career in animation was another distinct possibility. Najia has a prodigious gift for cartooning. "I love Disney," she says. "If I wasn't doing what I'm doing, I would be in animation for sure."
Dr. Bhimji is a dentist. After graduating from Queen's, Najia began dental school at UBC in 2010. She chose dentistry because it suited three of her many strengths: she has a deep love and understanding of science; an intuitively social and curious personality; and the soul of an artist.
The first two would seem suited and necessary to a successful career in dentistry. The third — the soul of an artist — seems almost superfluous by comparison. To Najia, however, the art in the work is as nourishing as the science. "It's like I get to work in a pottery studio every day — molding, shaping. I look at every filling as recreating the structure of a tooth that is missing a part. That missing part had anatomy and function. To recreate that missing part is a real joy for me." After four years of dental school, Najia did a residency in Connecticut then moved to Calgary to begin her career as a dentist.
"I grew up skiing on Blackcomb, so this gave me the opportunity to explore slopes on the other side of the Rockies." When she moved back to Vancouver, she brought with her the best practices from the many Calgary offices where she worked as an associate.
"I knew the kind of dental office I wanted to create. It's the relationships around me that matter most, and I wanted my practice to reflect that. I wanted my patients to feel authentically cared for, and to build long-lasting relationships with them. I also wanted to foster a working environment where staff are respected
and truly feel they are part of a team.
Najia connected with her mentor and friend Dr. Wilson Kwong and explained her goals. Dr. Kwong is the founder of Inspire Dental Group, and with visions aligned, in 2018, they opened the doors to a new Inspire location below Terminal City Club. Aside from her work as a dentist, Najia has related projects in early stages of development.
"I'm going to create a social media platform for parents to ask questions and learn about their child's health. Right now, I have a group of committed doctors, dentists, and psychologists. In a world where there is so much information circulating, it's hard to know what to trust. We are all so excited about bringing this trustworthy resource to the community."
Najia's other project is an animated children's book that explains to kids and parents in a humorous way how cavities are formed. "While soundly sleeping, a tiny town between two of Elliot's teeth came alive! Elliot had no idea, but the sugar bugs had found a home between his teeth." Plot twist: The sugar bugs aren't the
villains in this story. Once the cavity book is published, Najia plans similar entertaining books on sunburns, allergies, digestion and so forth.
Najia joined Terminal City Club in 2018. "Fitness is central to my life. The gym is my meditation. I believe deeply in the power of moving your body and replenishing yourself. The gym was the hook that got me to join but I've met so many great people here – people who not only have interesting work but are doing some wonderful things in the community."
Najia's fiancé, Ryan Brush, is a spousal member at the Club. The couple plan to elope in Italy this summer, where and when the dentist Dr. Bhimji will become the dentist Dr. Brush. "Seriously," she says with a smile. "Dr. Brush." Najia and Ryan love to travel, love to cook and eat well, and love being outdoors — skiing, hiking, biking, camping. "I greatly appreciate the opportunity to escape technology," she says. "Whether it's for an hour, a day or a week, I will take whatever I can get."