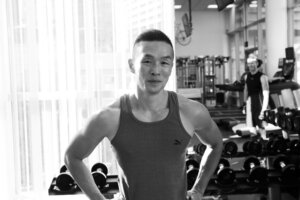 Photo: James Stockhorst
There is more than enough evidence to confirm Dan Enjo as a man of modern times.
He works in communications with the Provincial Health Services Authority, drives an electric car, lives in the trendy neighborhood of Mount Pleasant, travels the world, dresses sharply, and stays super fit. In fact, if there was a competition for the fittest member at the TCC, the smart money would move his way. Yet interestingly, it doesn't take much scratching into Dan's veneer to expose a deep and obsessive fascination with artifacts of the olden days. Take for example his watch collection of vintage timepieces. "I was given my grandfather's Omega Dynamic as an inheritance and my interest just grew from there," he says.
There is also his love for older films – from the 1930s to 1980s.
"Pretty much everything on the TCM channel. I can be transfixed by the artistry it took to make these movies – the wardrobes, the sets, the music, the storytelling – and especially the cars." Ah yes, the cars – yet another of Dan's passions from the past. While most of his driving these days is done in his Hyundai EV, once a week or so, weather permitting, he pops the roof on his 1991 Mazda Miata and goes for a spin.
"When I bought it as a student, I really wanted one of those old English cars. I got the Miata because I considered it the spiritual and more reliable successor to a car like the MGB." Dan's interest in vintage automobiles comes from his father, who owned and loved his ultra-stylish 1960 MGA. It's still with his dad, though it hasn't been driven for years.
Dan grew up in West Vancouver with his parents and two younger siblings. He excelled academically in the arts and sciences and considered medicine as a post-secondary pursuit, but early in his undergrad years at UBC he switched to arts. "I still remember my father telling me, 'You're not going to find a good job taking English literature.'" In 2004, Dan moved to Montreal to work on his master's degree at McGill University.
"Montreal was an incredible experience for me. At UBC I was something of an introvert, so moving away from home really pushed me to make new friends quickly." After graduation, Dan worked in McGill administration and later was recruited to work in communications for a local hospital foundation. He lived and worked in the Montreal area for seven years before moving back to Vancouver in 2011.
"I came home for a visit and that's when I met Ian. We tried having a long-distance relationship for a while, but it was difficult." After moving back to Vancouver, Dan and Ian joined a local gym which they both considered a bit run down – a bit rough around the edges.
"The culture in the place wasn't all that great. No one wants to be fighting bouncers for the weights." A friend recommended Terminal City Club and they were sold immediately. "I am still enamoured with the gym, where I've met so many accomplished people from a diverse range of industries. It's a respectful environment – not at all intimidating."
Dan also deeply appreciates the many other aspects of the TCC that make it such a special place – the valuable networking, the fine dining, the attentive and invested staff. "It's our go-to. Our families will meet here for big occasions like my aunt's 89th birthday, which we celebrated last month. We keep coming back due to the Club's central location, the great food and the familiarity of the staff team with us."
As Dan and Ian love to travel, they also make great use of the Club's affiliations with other clubs worldwide. "We've been to clubs in Asia, Europe, the U.S., and throughout Canada. The vast majority of affiliate clubs we've been to have been impressive, and it's helpful knowing you don't have to spend time looking for a hotel with an acceptable gym. Our TCC membership has been like a passport to some of the most amazing facilities in the
world."