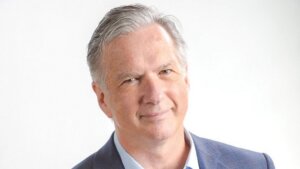 In the history of Canadian journalism, Kirk LaPointe has had one of the most remarkable careers. Consider the highlights: Editor of Southam News, Editor-in-Chief and Associate Publisher of The Hamilton Spectator, founding Executive Editor of the National Post, Senior Vice-President CTV News, Ombudsman of the CBC, Advisor to the Publisher of The Toronto Star, Managing Editor of The Vancouver Sun.
Those are just some of the executive titles he has held during his years in media. He has also been a writer, reporter, columnist, radio host, TV celebrity, and adjunct professor of journalism. And lest anyone think Mr. LaPointe's resume is confined exclusively to the Fourth Estate, he narrowly lost a run for mayor of Vancouver in 2014 to incumbent Gregor Robertson.
These days, Kirk is publisher, editor and columnist for the city's eminent business publication, Business in Vancouver, and Vice-President, Editorial, for Glacier Media, the largest media chain in western Canada. "I've had much good fortune in life," he says. "When I look back on my career, I'm not oblivious to the advantages I have had." When he was appointed to run Canada's largest news operation as Senior Vice-President CTV News, he prioritized the hiring of Muslim, Indigenous, Asian, and Black reporters. "I wanted the reporters out in the field to properly reflect our audience."
Kirk was also prescient in his understanding the media landscape was changing, and that to survive and to thrive, the business of legacy news reporting needed to converge with the business of the internet. "My advice to anyone interested in a career in journalism today is 'don't hesitate.' It's easy to say journalism is falling apart, but the truth is there are more news outlets today than ever. You might have to define your job a little more differently than I had to, you will have to be more entrepreneurial, but it remains a viable and rewarding career."
Given Kirk's stellar resume, a memoir would seem a probable next step, but he dismisses the notion and laughingly suggests he'd end up in the RCMP new-identities program. "I've seen too many things." The book he does plan to write will be on old-timers' hockey. Kirk's calling card — Have Goalie Pads, Will Travel — has, for years, made him a popular fixture in Beer Leagues throughout the city.
"I have something to say about old-timers' hockey, about the people I have played with from all walks of life. I've heard so many amazing life stories from guys who worked as pipefitters or teachers or lawyers." Aside from hockey, Kirk's other athletic passion is running — something he has done for 40 years. He's completed nine marathons, one 24-hour run, and is regularly seen in the TCC gym putting a treadmill through its paces.
"I became a member in 2018. I was developing a business network and I knew the TCC would acquaint me with many of the key players in the city. Plus, there's this great gym and the food is fantastic. What you get at the TCC for what you pay for makes it a terrific economic deal."
Kirk moved recently to West Vancouver with his "brilliant academic spouse" Mary Lynn Young, a professor of journalism at UBC's highly regarded School of Journalism. "I love Vancouver and want to stay involved. I know I have something to contribute toward the betterment of the city and running BIV I feel I get that opportunity every day."
Kirk has two children by a previous marriage who have achieved tremendous success in their respective careers. His daughter Vanessa is an accomplished biomedical engineer working in the Netherlands, where she is helping to direct an international consortium on regenerative medicine. His son Michael lives in Toronto and is a writer of considerable renown. His work appears regularly in such august publications as the Times Literary Supplement and The New Yorker.
"They're great kids. As their father, I am so happy they have both found things they are passionate about and talented at."