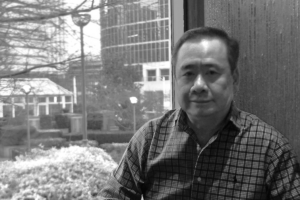 After growing up and finishing high school in Hong Kong, Wilkie Kam moved to London where he attended Middlesex University and graduated with a Bachelor of Arts in economics. This move was a formative experience for him. "I loved London," he says. "I loved the culture. I so fondly remember hanging around Leicester Square waiting for the cheap theatre tickets to be released on the day of a show. I paid six pounds to see Les Mis. I saw Evita with Elaine Paige from the front row."
Wilkie moved to Vancouver in 1988. His wife, Elaine, whom he first met in London, would move here four years later and the couple would marry in 1992. "My mother and father were moving here, so I joined them," he says. "My parents are back in Hong Kong now. Elaine and I considered moving back, but quickly ruled it out. We were no longer familiar with that lifestyle. London and Vancouver changed us."
Career opportunities were not abundant when Wilkie first got to Vancouver. He says it was tough at the beginning. Potential employers were looking for Canadian experience and Canadian education. He eventually got a job as a teller at the Bank of Nova Scotia. Over a short period of time, he worked his way through different departments before landing upon investment banking, where he is today.
As a successful portfolio manager with BMO for the past three decades, he has experienced a few seismic quakes on the financial landscape — the tech bubble, the 2008 subprime crisis, the pandemic. "It can be humbling, challenging work," he says. "But I take great comfort knowing my clients got through those times unscathed." Wilkie turned 55 last year and says he has no interest in retiring. "I love the job. I'm never bored, and every day I find ways to improve my performance."
Outside of work, his passions include cooking and travel. "I enjoy good food; I enjoy the instant gratification you get feeding others with something special you've created." There is no one cuisine he prefers to cook over others. He likes to poke around different recipes, freelancing with ingredients. A few of his signature dishes are Italian risotto, Spanish paella, Chinese beef tendon stew, and Japanese pork kakuni.
As for travel, his three favourite destinations are Italy, Japan, and Ireland. "We try for two vacations as a family every year. I love Japan for the food and for the hot springs; I love Ireland for the people.
"Italy is really special to me, however. I am passionate about history and the arts. When I was in London, I would always be going to the National Portrait Gallery or the British Museum. So, what's amazing to me about Italy is that you can be walking down a street, turn a corner, go into a church and find yourself looking at an original Caravaggio."
Wilkie and Elaine joined Terminal City Club 15 years ago. Their eldest son, Calvin, was 9 at the time, and their younger son, Marcus, was 3. The family established Sunday afternoons at the Fitness Centre as a tradition. Today, Calvin has graduated university, works for KMPG and is a Club member; Marcus is in his final year of high school.
"My parents belonged to the Royal Hong Kong Jockey Club. Like the TCC, it's an amazing facility with a pool, a gym, squash courts, a snooker room, and a number of great restaurants. I loved that place — I knew the staff and the staff knew me. I grew up in a Club environment and I wanted that experience for my boys.
"So, every Sunday is family time for us. It's been such a joy seeing the same staff here over the years. People like Sheila and Nick and Jean-Louis, they have watched our sons grow into young men." So too have the regulars in the Fitness Centre watched them grow into young men — fabulous young men.