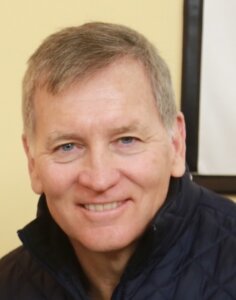 ---
It can be said that Stewart Marshall's grand journey at Terminal City Club began with a meal – a great meal, a meal befitting the remarkable adventure ahead. That was 50-plus years ago. At the time, Stewart was a West Vancouver elementary school student; his father was a TCC member in high standing.
"My dad brought me here as a kid," he recalls. "And what I remember most fondly was the seafood smorgasbord and the clam chowder."
Of course, it was a different club back then. In those days, TCC was almost exclusively a refuge for businessmen – an escape from the office where work was conducted often over the course of a few drinks and much laughter.
"Dad was in finance," Stewart says. "He was an accountant by profession, who went into consulting and eventually found himself working for Jimmy Pattison in the late 60s."
When it came time to forge his own path, Stewart chose to walk in his father's footsteps, as young men so often do. He went to UBC, earned his Bachelor of Commerce, then set out to build a career in investment management – a career that, by every measure, was triumphant.
For 23 years, he worked at Phillips, Hager & North Investment Management. His expertise was in managing portfolios for institutional clients, such as pension plans and endowment funds. Stewart was a partner when Royal Bank stepped in and purchased the smaller firm.
"We thought we were pretty big at PH&N, but when you begin working for something the size of RBC you have a different perspective on what big means," he says with a smile. "I hung around for five years following the sale, fulfilled all my commitments, then was able to retire about seven years ago."
Today he's 61, so, doing the math, he beat "freedom 55" by a year. His two boys, Adam and Charlie, are young men now, and his wife, Sunny, sees more of him than ever.
"I'd be lying if I said I didn't have some trepidation about going into retirement. I had been getting up at 5 a.m. for 35 years, working for a driven company, and now I am just going to shut it off. The thought of that alarmed me a little. What was I going to replace it with? My worries were all for not. I've found the adjustment easy and richly enjoyable. I feel so fortunate."
Stewart hasn't remained idle by any means. He continues to work at his fitness with the ferocity of a man half his age. Not surprising, since it was fitness that first attracted him to joining TCC – his dad's old club, the business place with the great clam chowder.
"This Club, the place where we now stand, hadn't been built yet when I saw a model for the proposed facility in the old Metropolitan Building. It was being built a few minutes from my office and there were plans for this stunning gymnasium complete with squash courts. I was an avid squash player and my former club was getting ready to close, so joining TCC was an easy decision."
These days, Stewart plays a lot of golf, hikes the old growth forest trails of the North Shore and focusses much of his activities on cross-training. And then there is squash, which he still loves and still plays.
"There is so much more to that game than just bashing the ball," he says, explaining how a match requires, strategy, strength and stamina. "There are just so many cool things that factor into a game."
Stewart has also kept busy through his "retirement" doing work on three boards: GOLFTEC, the UBC Institute of Mental Health and Terminal City Club. In the new year – pending formal appointment – he will ascend to the highest position on the TCC board, taking over the presidency from Joe Corea who did amazing work steering the board through the difficult months of living Covidly.
"The Club has changed so dramatically over the years," Stewart says. "The Club I knew when my dad was a member was prestigious but stuffy. At least that's how it struck me. When I joined, I was attracted to the gym, but surprised myself how much I used it for business. Today, it's very much a place to socialize and participate in activities."
But it was the stuff bred in the bones of this Club that, in time, he grew to deeply respect and cherish – the community of membership.
"I've been on the board for eight years and we are always asking: 'What must the Club look like going forward?' Everywhere all over the world, business clubs are struggling. We knew we have to always change, to always be something more to members. Anyone who has been here for the past decade will attest the place has become almost unrecognizable from where it was. In a good way."
Getting the Club through the trials of a pandemic will be Stewart's top priority when he is appointed President. After that, it will be back to the business of change and growth.