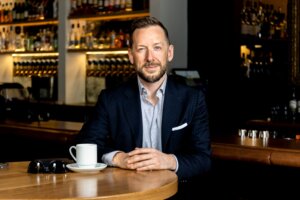 On the evening of March 16, 2020, Jeff Guignard poured himself a tall scotch, then sat down to contemplate the events of that day. The pandemic had landed. The NHL and NBA had suspended their respective seasons. The mayor of Vancouver shut down St. Patrick's celebrations. "I didn't even know the mayor could do that," he says.
Jeff is the executive director for the Alliance of Beverage Licensees (ABLE BC), a non-profit advocacy organization funded by a membership of bars, pubs, and private liquor and cannabis stores throughout British Columbia. ABLE works with all levels of government to help create business-friendly policies in this highly regulated industry.
In recounting the grim news of March 16, 2020, Jeff recalls a phone call that crystalized the crisis: "I'm speaking with someone who runs a major pub company in the city, and he says to me, 'When I hang up the phone, I am hitting send on an email to shut everything down and lay off 600 workers.' I knew a lot of people were going to be scared. Our industry had no idea what to do. There were no proven solutions for this sort of problem."
But in the darkest hour, it is a great leader who seizes the light. Jeff understood the most important action was to communicate with consistency and clarity to the membership. His first email to the group stated confidently that ABLE would do everything it could to answer their questions. "I remember writing, 'We are going to be here for you every hour of every day until we get out of this.'"
Jeff's small team of three worked tirelessly on behalf of ABLE's members, including entire months without taking a day off. "I think we worked the first 56 days straight," he says. By the end of that period, Jeff says the industry perspective on the association changed in the most positive ways. "We had members telling us that they would watch Dr. Bonnie Henry in a live news conference, but not react until they got our email later that day. I am deeply proud of the work we did. I know we saved thousands of jobs."
Some of that work resulted in permanent changes to BC's liquor industry, including the ability for hospitality licensees to purchase liquor at wholesale prices. It's a "historic change," Jeff says, which saves pubs, bars, and restaurants about 20 per cent on liquor purchases. According to Jeff, "That's an $80 million annual investment in our industry's recovery." In recognition of his work during the pandemic, Jeff was named to VanMag's 2022 Power 50 list. He was also named one of Western Living Magazine's 2022 Foodies of the Year.
Jeff grew up in New Brunswick, then moved to Ontario to study English and comparative literature at McMaster University in Hamilton. After graduation, he went to Parliament Hill and stayed in Ottawa for a decade working with MPs on everything from press releases to legislation.
In 2014, Jeff decided the time had come to leave the public service. A friend recommended he apply for the newly vacant position at ABLE. He jokes that the only reason he got the job was his ability to speak government. Now, he says, he speaks business, too. "Essentially, my job is to convert business talk to government talk, then government talk back to business talk, so that both sides can figure out what needs to get done.
Outside of work, Jeff has a fascinating assortment of interests. Road trips on his Honda NC750X, for example. He also loves to cook, is a voracious reader, and spends a lot of time writing. "I will write a novel at some time in my future." Jeff curls, too. It is something he does with such proficiency that a trip one day to The Brier remains a possibility. "I've been curling since I was 13. I've come close to going [to The Brier], but as I get older, I find I'm more selective about my dreams. It's difficult being that consistently good at the sport. Age is about stage, and I often ask myself, 'Do I really want that?'"
Jeff was introduced to the Terminal City Club through his friendship with Charles Gauthier, the former President and CEO of the Downtown Vancouver Business Improvement Association. "I started showing up at events and really liked the vibe. The past couple years I have been so focused on my job I have not fully developed my relationship with the club. But that's changing. Going to the gym regularly, for example, has been one of my best decisions of the past six months. The TCC is becoming more and more an integral part of my life."