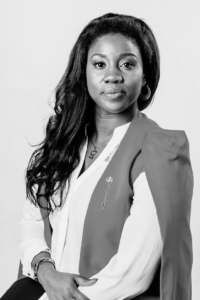 Born in west Africa, Edoye Porbeni was 6 when she moved to Vancouver in the late 1980s. Her parents had lived here in their youth and were married at City Hall in 1970. Vancouver is where dad had trained as a commercial pilot and mom as a nurse.
In 1993, Edoye was all of 10 years old when she made the precocious decision to leave Vancouver and live in the U.S.
"I'd taken a trip to visit an uncle in Georgia," she says. "He was working on his doctoral thesis and I fell head over heels for both Atlanta and academia. I begged my parents to let me move there for a year. They knew I was not going to let it go, so they relented with the caveat that I spend summer in Vancouver. One year turned into two, then into three. I ended up staying there until I got my first degree: communications with a minor in international relations."
While the decision to move to Atlanta may have seemed impetuous, truth is, Edoye has always had this uncanny skill for seeing a bigger picture for herself and pushing toward it, like, for example, in 2004 when she decided the time was right to return to Vancouver.
"My values are much more Canadian than American, so I knew that if I was going to love a country and work to make it a better place, I wanted it to be Canada."
Upon her return, Edoye found herself simultaneously working on her master's degree in public health at Simon Fraser University, while also taking on project work for the local and federal government.
"My first project was to establish resource centres for people living with HIV in the Lower Mainland. I'm the kind of person who finds a tremendous amount of satisfaction getting things done. I loved that project; I loved being able to solve problems for so many people in need of help."
It was through that work, Edoye fully understood her calling — project management.
"That skill is just something I was born with. I remember when I was young budgeting my allowance so that I could take my parents on a date to Wendy's. I figured out how much to save, then I sent out invitations and told everyone what they had to wear."
Edoye also has a powerful entrepreneurial drive. She is the founder of Future Health Ventures, an umbrella company under which three businesses are in various stages of development:
Apollo is a full-service project management firm with a focus on the health-care industry. It is the most established of Edoye's ventures and is modelled in many ways on the ground-breaking work she did on the HIV initiative, introducing the science and art of project management into the field of healthcare.
Atreides is a drone service that delivers aid to regions in need of emergency medical supplies. Communities isolated by the recent flooding throughout British Columbia is a real-time example of how Atreides can save lives.
Silver Fit is an integrated fitness program with boutique wellness centres designed to meet the needs of men and women over 50 who want to take charge of their health.
"Big box fitness places are simply not designed for people like my mom." Of the businesses under the Future Health Ventures umbrella, Edoye says Silver Fit is the one everybody gets right away.
Edoye joined the Terminal City Club in 2016.
"Apollo was my first business and I founded it to be a virtual company so I could hire moms who were home with their kids. I'd negotiated this amazing deal with Skype and always worked from my home office and held meetings at cafes and restaurants. As business grew, I saw the TCC as an ideal place to hold meetings and be consistently productive."
Three years ago, Edoye became the proud solo parent to Danika–Joie (DJ). It wasn't long after becoming a mother when she noticed some doubt in the business community that she could maintain her reputation for high standards while also being a parent.
"I never felt that doubt from anyone at the TCC," she says. "I really needed that confidence in my life at that time. I was not fully prepared for the 'motherhood penalty,' so the TCC was a true oasis. When I'd visit the club with DJ as a baby, staff members and club members were always so gracious and helpful, even offering to hold her while I ate or conducted a meeting. The club is part of our family.