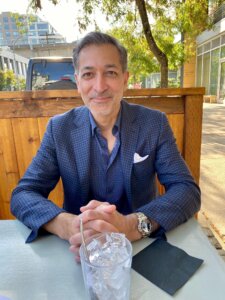 Dr. Ramesh Sahjpaul lived his high school years in the challenging Toronto suburb of Jane and Finch — a "sketchy" neighborhood with lots of crime and lots of drugs.
"I was fortunate" he says. "I had a great cohort of friends. We were all studious and interested in university. Three of us went to medical school."
Ramesh was born in the Punjab region of India. His family moved to Coventry, England when he was three, and then to Toronto when he was 12.
"My dad was a teacher in India, but he wanted a better life for his kids. Ours was a typical immigrant story. When we left, my father would take whatever work he could get — manual labour mostly. Sometimes he'd be working three jobs at a time."
Ramesh had a knack for sciences in high school, but it wasn't until his third year at the University of Toronto he decided to become a doctor. Years later, while doing surgical rotations at Kingston General Hospital he found his specialty.
"They had a small neurosurgical service in Kingston," he recalls. "One of the two surgeons was this brilliant fellow, Fraser Saunders, who looked and talked like a California surf dude. I was sitting with Dr. Saunders when he met with a mother of a patient who had come in after a motor vehicle accident. When he told the mother he could not save her son, I was overwhelmed by the enormity of that responsibility and how he managed the moment with such heartfelt respect and care. A few days later, another young man with a serious head injury was in the hospital. His condition was treatable. When he told the parents the good news, I considered how diametrically opposed these two scenarios were, and, in that moment, I knew I wanted to be a neurosurgeon."
Wanting a more multicultural and active lifestyle, Ramesh and his family moved to Vancouver in 2001. The move west has been an incredible experience.
"Vancouver is the longest I have ever lived any place."
Ramesh works at Lions Gate and St. Pauls hospitals, has served as the Head of the Department of Surgery, and is a faculty member at the University of British Columbia.
"Although medicine — neurosurgery in particular — can be all encompassing and absorbing, especially from a time commitment, my work has also provided me with a vehicle to travel, teach, and lecture around the world. In this regard, I consider myself very fortunate"
Ramesh joined The Terminal City Club in 2017. As a single father of four mostly grown children, he was looking for a new fitness facility, and a place to break out of the routine and meet different people.
"This place is second to none. The gym, along with the pool, was a huge selling point – bright, clean, modern. Before COVID, I enjoyed dinners, wine clubs and social events at the Club, meeting new people, some of whom have become good friends.
"The pandemic has been tough on all of us. Having a place to come to exercise, and socialize to some extent, has been incredibly valuable. The staff here are like rock stars. What they've done to keep us open and safe is truly remarkable."