Dear Members and Guests,
Thank you for your continued support of TCC. As you are likely aware, the Public Health Orders issued on September 10, 2021 require the Club – like many other non-essential businesses – to verify that all patrons who wish to enter the facility as of September 13, 2021 are vaccinated against COVID-19.
Proof of vaccination must be in the form of a BC Vaccine Passport and an approved piece of government-issued ID. (Patrons under the age of 19 are exempt from presenting ID.)
There are no medical exemptions to the Order at this time. See below for details on how to obtain your BC Vaccine Passport.
Please note that the BC Vaccine Passport is entirely separate from the recently launched digital BC Services Card.
The digital BC Services Card can be used to access the application for the BC Vaccine Passport. However, the digital BC Services Card does not store your Vaccine Passport, and cannot be used as ID. For more on the digital BC Services Card, visit the BC Services Card Page.
BC Vaccine Passport Important Dates
September 13
– Proof of vaccination vaccination now required to access facilities that are covered under the Order
– Partial vaccination okay (ie; 1 dose of a 2-dose vaccine)
– A paper vaccination record (issued at vaccination clinics or pharmacies) will be accepted as proof in lieu of BC Vaccine Passport
After September 26
– BC Vaccination Passport will be the only acceptable form of proof of vaccination (no paper vaccination records)
October 24
– Must be fully vaccinated for entry (partial vaccination no longer accepted)
January 31, 2022
– The current Order expires, although it may be extended by the Public Health Officer of BC
How to Obtain Your BC Vaccine Passport
Step 1
To obtain your BC Vaccine Passport, visit the BC Vaccine Card Page and click the button that says "Get My BC Vaccine Card".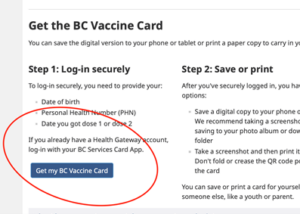 Step 2
You will need to provide:
– Your date of birth
– Your Personal Health Number
– The date of your first or second COVID-19 vaccination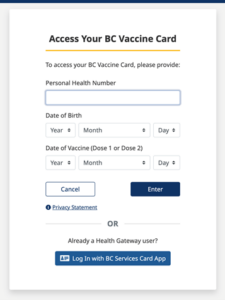 Step 3
When your application is completed, you will see a QR code that indicates your vaccination status. On your smartphone, take a screenshot of the Vaccine Card, including your name and the QR code, and save it to your photos. Show this image (along with your government-issued ID) when entering any facility that requires proof of vaccination. Don't share your QR code on social media. This is a personal document and should be kept secure.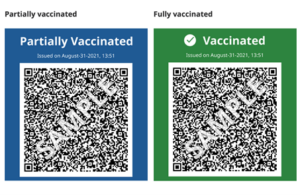 More details on the BC Vaccine Passport, including when and where it is required, how to obtain one if you do not have internet access, privacy, specific information for various groups, and more visit https://www2.gov.bc.ca/vaccinecard.html