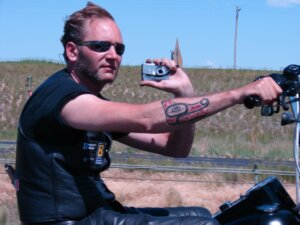 There is no underestimating the significance of motorcycles in the life of Jason Bosa. They are his passion. He loves to ride. The motorcycle is also a nearly perfect metaphor for how the 51-year-old embraces life – his desire for solitude, independence, even a bit of rebellion now and then.
"Motorcycle riding is great meditation for me," he says. "I am out on the road. I don't have to talk with anybody. The scenery is changing. I am focused. It is the best way to clear my mind."
Jason is the middle son of Natale "Nat" Bosa, one of Canada's most successful and celebrated real estate developers. Understandably, while Jason was growing up, work was always available. "There wasn't a choice; it was mandatory," Jason says, smiling. "The work wasn't onerous, but it was important to my mother and father that all their children appreciate the value of a dollar earned, so if that meant pulling weeds for eight hours, then you pulled weeds for eight hours."
After graduating Notre Dame Regional Secondary School, Jason took some courses at Capilano College with no real goal in mind. He studied what interested him: writing, archeology, acting, physics. What felt inevitable at the time was that he would end up working his way to the top of the family development business. His dad undoubtedly thought the same. His mom, however, had other plans for her son.
In 1996, Flora Bosa purchased Swedish Jewellers, which had two locations – one in Pacific Centre Mall, the other in Park Royal Mall. She asked Jason to come work with her, primarily on staffing issues and reorganization of the two shops.
"I came in with the intention of working three months," he says. "But at that time, friends were getting married, so, along with giving my mother some administrative help, I started designing wedding sets and learning about watches.
"I initially thought I would get back into development, but I found the jewellery business beneficial in so many ways, including nurturing my creative side. Designing an heirloom for someone is magical – a piece that is unique and has emotional significance for the client."
In 1998, Jason and Flora closed Swedish Jewellers and opened Palladio Jewellers in the Terminal City Club building. "We were changing our focus from basic manufactured jewellery to more high-end handmade inventory. A street-level boutique was a more appropriate location than a mall, so we used the move as an opportunity to rebrand."
By 2001, five years into the jewellery business, Jason knew he wasn't going back to development. "The development world had changed so much in those five years," he says. "It became so much easier for me to put everything into Palladio. I was happy with the decision, and I knew my dad was proud of how well the business was doing.
"I am a firm believer that what you do for a living is not who you are. What you do for a living is the way you facilitate your real life – your life outside work."
That life outside work includes his motorcycle, but more significantly, it includes his wife and three young children – all boys, all born 15 months apart, all under the age of 4. "Our house is very loud," he says.
Jason joined Terminal City Club in 1998. Over the years, he has used the TCC for business functions, private events and trade shows. He's also brought some weddings to the Club. "Clients who are getting married, I've been able to sponsor them to use the facilities. It is such a wonderful place for a wedding, the arrangements have helped everyone – the clients, the Club and Palladio."