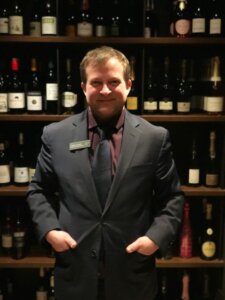 Owen Stuart cut his teeth in the service industry on the bottom rung of the ladder: dishwasher. It is a testament to his intelligence and work ethic that, today, the rung he occupies is way up at the top: Beverage Manager at Terminal City Club.
Those dishwasher days go back some 20 years. He was with White Spot then. It was gruelling work, but he stuck with it, and, in time, got promoted to line cook.
"The White Spot manager left the company to become Banquet Manager here at the TCC. He was looking for a houseman. He knew my work and offered me the job."
Essentially, housemen set up the banquet centre — moving furniture, laying out the linen and cutlery, etc. Owen had worked as houseman for about a year, when the bar manager at the time asked if he wanted to serve banquets.
"It was coming up to Christmas and she needed a couple extra bartenders, so I was happy to give it a go. I was just kind of learning on the job from the manager and the other bartenders. After that, when the lounge needed help, I would volunteer bussing tables. That's how I got into the beverage side of the business."
Today, as the Club's beverage manager, he works closely with the lounge, restaurant and banquet teams, as well as the Club's wine expert and Director of Wine DJ Kearney.
With a background that included washing dishes, bussing tables and doing any work to help the team, when COVID-19 hit, the affable beverage manager naturally did what he does best – he helped the team.
"When we first opened its doors after lockdown, some of us manned the desk at the Fitness Centre. And as different areas in the Club re-opened, we all did whatever we could to support one another.
"Fortunately, for me and the Club, even during COVID-19 times, people drink, so many parts of my job came back quickly. But there were new challenges, of course. One of the things we did right away was launch a take-me-home site for food and beverage. Plus, people would contact me to stock wine fridges at home."
As a positive and forward-thinking individual, Owen recognizes the upsides of the last year – how crisis has brought the staff and members at the TCC closer together.
"I have to believe people have a tendency to watch out for each other during hard times. So many people on staff couldn't see their regular friends, so, your new closest friends became your colleagues inside the bubble.
"And the relationship between staff and members, while it was always strong, it seems to have strengthened and become more substantial.
"COVID-19 has been a challenge, but we will make it through stronger than ever."