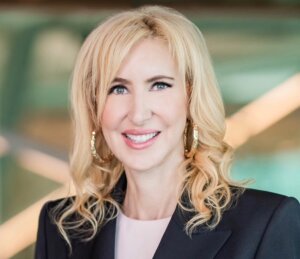 The salient piece of advice Annalisa King likes to offer others who aspire to her success is this: "Life and career should be treated like a roller coaster. It's all about the ride, not the destination. Enjoy and live in the moment, in the present, do things today."
The ride for Annalisa and her husband Tim took something of a wild turn 12 years ago when the highly accomplished business professional accepted the challenge of Chief Financial Officer for Best Buy Canada. Of course, the role in itself was demanding enough, but it also came with a move – a big move of some 3,500 kilometres, a move from Toronto to Vancouver.
"I'm retired now, as is Tim, though with my board work, Tim refers to my retirement comment as 'fake news.' But I must say we quite enjoy our relaxed Vancouver lifestyle. Our son and daughter are grown up. They live in other provinces. So, life for us here is fairly quiet. We greatly enjoy our friends; we love to travel."
The couple joined TCC upon retirement, a period Annalisa calls "a time to breathe." The idea of a social club greatly appealed to them both. They wanted somewhere to hang out with familiar and friendly people, who shared common interests.
"We have a tight group of friends," she says. "The circle is small and TCC is such a welcoming environment. We're also wine and food lovers, so we are greatly attracted to the tastings and similar events. And, of course, there's the gym. I really wanted a gym, so that was key to our decision to join."
The gym is where Annalisa likes to find herself three times a week. She fits her fitness in between all the other activities that engage her time these days, including an active board life. Most significantly she is Chair of the Board for the Vancouver Airport Authority, but she is also serving on three other publicly traded company boards.
When someone has accomplished all that Annalisa has accomplished, they become a voice of influence, a voice that attracts the rapt attention of others. Her remarkable successes are manifest – worthy of study and emulation. Yet, she makes clear that what is "success" for her, might not be the same for others. "Everyone values things differently" she says. "For me, it's never been about title. For me, it is about being the very best at what I am doing. I've always wanted to take things to the next level. I've never done anything halfway.
"The main stage in life always comes back to having impact, to accomplishing something you are proud of. I always ask myself: 'Am I going to leave a footprint, and will I positively affect people's lives?' If I can do that for a few people before I leave this earth, I'd say that is what success means to me."
Like everyone, 2020 has had a dramatic impact on Annalisa's life. She is a great lover of travel, so this year of lockdown has denied her and Tim the adventures they so fondly adore.
"Now that we can't travel, I have two things that occupy much of my free time," she says. "One is cooking/baking and the other is painting. These things offset my finance brain. They challenge me in new ways. I love dissecting a dish that I have eaten to see if I can replicate a portion of it. And I spend many hours painting in my tiny studio. But boy, oh boy, do we miss travelling."
When life returns to a degree of normal and the skies re-open for business, Egypt is high on the "next destination" list. And, of course, there's Europe. "My favourite place to travel is, well, Europe," she says. "If you want me to narrow it down, okay, Italy. No, wait, that is Tim's. For me, France. Or maybe Spain. Those would be the top three. To argue it further is the subject for a great debate in the Members' Lounge, is it not?
"I love art, food, wine, and Tim is also a huge history buff. We both adore architecture. We spent two months in South America, just pre-pandemic, and explored so many great places. I just love this process of discovery, culture, and history."
For now, Annalisa and Tim are greatly appreciative of a more modest journey – the one from their home to the TCC.
"For us, two things have most significantly increased our enjoyment of the Club. One is when [TCC Director of Wine] DJ Kearney showed up. The content and the sessions on wine and spirits went to a whole new level. We both love her to death. DJ and Chef Dan [Creyke], and the whole team there have done a superb job. Second for us is the Members' Lounge. We absolutely adore that space to just go, hang out, have a drink and enjoy. The vibe is amazing.
"It's so interesting to me that the two things we love the most weren't even there when we joined. That's a credit to the TCC for always upping its game. Bravo."