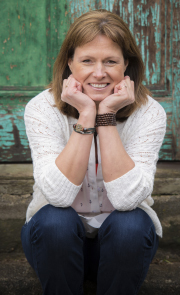 Joan Posivy arrived at the right place at the right time almost entirely by mistake.
She was 18, living in Toronto, working for Canada Trust, when some friends told her about a business seminar on marketing that she ought to attend. As it turned out, that seminar wasn't on marketing at all.
The speaker was Bob Proctor, the renowned Canadian philosopher and guru on matters of personal growth. As Joan recalls the event, his message to the assembly was simply: "Regardless of what has happened to you, regardless of your upbringing and what you think your limitations are, the truth is that you can create anything you want to create."
For a self-defined introvert, these words changed everything. "That was quite a revelation for me," Joan says. "I had never heard anything like that. I had never heard anyone talk about potential in this way. What this did was open my eyes to set goals that were in alignment with where I wanted to go in life."
And so …
Goal No. 1: Buy house. Completed by the age of 19.
Goal No. 2: Become manager of a financial institution. Completed at the seemingly unimaginable age of 22.
"There were executives who told me I couldn't manage a bank branch at such a young age. If I wasn't immersed in studying the power of the mind and human potential, I might have believed them. But what I knew at the time was this: Their limitations on my potential were merely opinions, and I was not going to let the opinions of others alter my goals."
In 1986, Joan travelled to Nelson for a ski trip and fell in love with the place. She sold her home, passed on an offer to run the financial institution's lending operations, and left Ontario for the Kootenays.
"My goal at that point was to move to Nelson then figure out what to do when I got there. There was an opening for a loans and mortgage person with CIBC. I didn't really want to get back into banking, but I knew it was a job I could walk into. At the time, there were only four financial institutions in town, so I figured this job would give me the opportunity to meet a quarter of the population."
Her next goal was to look for "passive income" – a business that would not require a lot of work, while providing steady revenue. The opportunity to open a self-storage facility presented itself. It was a perfect fit. Not only would it generate steady income with minimum effort, but it also seemed a suitable business for someone who, in a metaphorical sense, stowed her old self away years ago.
With a partner secured, 12 Mile Storage opened its doors. "With that business going, I was able to start growing my voice in the personal-development industry. The material I'd been intensely studying and applying since the age of 18 was so effective I wanted to share it. I started getting hired as a trainer and a speaker – travelling the world helping people reach goals they considered unreachable."
The culmination of her work in personal development was published in 2015: The Way Success Works – How to Decide, Believe, and Begin to Live Your Best Life. As a kind of testament to the circle of life, the forward to this powerful and popular book was written by Bob Proctor.
Joan sold her storage business this year and celebrated the event with a few TCC gym buddies. "When something wonderful and significant happens for any of us, we toast the occasion with a morning Mimosa."
Now that the business is sold, her next goal is to start podcasting. "I love hearing people's stories," she says. "I see the podcasts as conversations with successful and inspirational people, then, given my expertise, breaking down for the audience the components of what made that person's success. "The TCC membership is filled with the sort of individual I would love to have as a guest."