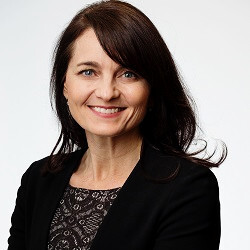 Given her parents' respective careers, the obvious direction for Christine Girodat was business or finance. Dad ran his own business, that he began from a briefcase and grew into a successful company. Mom had a long career in banking. Both parents led by example with strong family values. Their hard work, dedication and unwavering support of family, friends and community provided a solid foundation for Christine and her siblings.
"I had the opportunity to work with my dad for many years while attending school. I truly admired the work he did every day and enjoyed working alongside him and his exceptional team." Interesting enough, Christine chose music. "I grew up in Kitchener-Waterloo, well truly 'Waterloo'. I was fortunate to be involved in sports, music and had a passion for learning. That, coupled with talented mentors, set the stage."
After finishing high school in Waterloo, Christine went to the University of Western Ontario in London, where she graduated with an honors degree in Music Education. She then went on to obtain a second degree, a Bachelor's of Education and embarked upon a successful career in Ontario teaching music, math, and business. Unfortunately, her career in education was cut short for health reasons. The symptoms from Juvenile Rheumatoid Arthritis made playing, and ultimately teaching, more and more difficult.
Shortly after Christine's difficult decision to leave teaching, she met a woman who suggested she consider a career in banking. "I started my career in banking as an account manager almost 20 years ago and I have found the journey to be very rewarding. I consider myself a life-long learner and the opportunity to tap into my education and experience, earn my PFP and take on many different roles within the bank has been exceptional."
As Christine's career continued, it felt like those influences in her life — her father's business acumen, her mother's own successful career, as well as her own work in business and education — were now catapulting her into new and exciting opportunities.
In 2006, Christine made the move to Vancouver to join her husband, Jason who had accepted a job offer. Leaving friends and family was not easy, she says. "Yet, it was such an amazing opportunity and we knew it would be a great experience."
With the move came opportunities for Christine to take on new roles in leadership, private banking and most recently with the commercial team based here in Vancouver. "I truly enjoy what I do. We have a fantastic team, and we have the privilege of working with outstanding clients."
Christine has also kept her focus on family, friends, and community. One of the ways she gives back is through volunteering. The list of organizations that have benefited from her time and expertise include Junior Achievement, RBC Race for the Kids, BC Cancer Society, RMHBC and BC Women's Health Foundation.
"Jason and I settled into life in B.C. quite well and enjoy all that this beautiful province has to offer." Christine joined the Terminal City Club 15 years ago. "When Jason and I moved here it was just the two of us, so the club has been a special setting for us to enjoy. We have met so many wonderful people and we are truly grateful for the friends we have in our lives. The staff are amazing and my favourite way to enjoy the club is on a Sunday in the summer. We start in the gym, followed by a lovely brunch on the patio. We are fortunate to have such a beautiful location."
Covid has moved her exercise to outdoor options including walking the seawall daily. "As long as I can get outside, I am happy, whether that be walking, hiking, biking or skiing, these are many of the activities Jason and I enjoy."
Time with Jason is most important, says Christine, whether it's a dinner out, a shared bottle of wine, or exploring new and exciting places as they travel. Some of their favourite destinations include France, Greece, Italy, and Ireland.
"Living a distance from Waterloo, we often will pick a destination with the goal that my family can come together and use these special trips as an extended opportunity to reconnect.
Christine says that she and Jason look forward to their next adventure abroad.