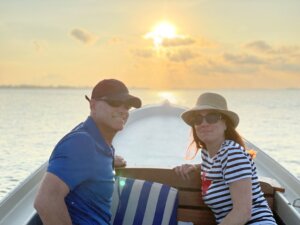 Rhonda Palmer grew up in the rural village of Forestburg, Alberta. Dad worked for the power company and mom ran the home. While life in this small community had many charms, opportunities were in the urban centers. Rhonda knew that the road forward travelled primarily in one direction: out of town. "I learned at an early age a simple key to life," she says. "Get your education, a good job, work hard and don't be afraid to take risks."
Rhonda left Forestburg after high school for Edmonton where she enrolled at Grant MacEwan College (now MacEwan University) in the paralegal program. She had a successful career working within private practice law firms and was invited back to MacEwan to teach part time in the program she graduated from. She also received the Alumni of the Year award from MacEwan University for her contributions.
In the late 90s, a colleague in her network pitched the Insurance Industry to her as a stable, growing, and variety filled industry. The opportunity to interact with customers directly piqued her interest and she accepted a position as a claims investigator with ING Western Union (known today as Intact Insurance). Intact is currently the largest insurer in Canada and expanding their global footprint with a recent $5.2 billion acquisition of RSA Insurance.
"My first job was investigating accidents and injuries," Rhonda recalls. "Having my legal background was greatly beneficial in this industry. I loved the fact-finding and assisting clients as they navigated through their personal or business insurance claim."
In 2000, Rhonda met Stacy Phillips at an Intact Stampede party for insurance brokers in Calgary. Stacy worked in the company's Vancouver office. The couple had a long-distance relationship for a year, then Stacy suggested Rhonda move to Vancouver. Moving to Vancouver was definitely a risk, however the sense of adventure and love for the outdoors made it an easy move for Rhonda. She has continued her career in Insurance holding various senior roles and is currently the National Specialty Lines Director of Operations and Business Development for Intact.
Rhonda and Stacy married in 2004 and joined Terminal City Club in 2012. "Stacy and I have always shared a love for fitness, so it was the gym that most attracted us to TCC. But since joining, we've come to enjoy so much more with the membership — the dinner and wine programs, the fabulous staff, networking, and friendships." Along with fitness, food, and wine, the couple's other great love is travel.
"Growing up in a one-income family, travel was focused on local trips usually involving camping and fishing. The first time I had the chance to fly was on a trip to Singapore and Malaysia as a member of the MacEwan women's volleyball team. That changed everything. I knew I wanted to see the world." Rhonda and Stacy have seen a lot of the world during their 22 years together. Their most memorable destinations include Machu Picchu and Chile, Thailand, and wine trips throughout Europe — Spain, Portugal, France, Italy, Greece. "We're very fortunate," she says
When they travel, Rhonda and Stacy like to immerse themselves in the community culture. This might include cooking courses, bike and walking tours or other local activities like 10k runs. "One of the great things about being married to Stacy is that he is always up for an adventure. I'll do the planning and research and he's all in."
In 2019, the couple travelled to the Dominican Republic where they helped build a house through a program called Bridges to Community. "We worked eight to 10 hours a day doing whatever manual labour was required. We slept in bunk beds with bug nets and bathed in the nearby river. The local residents cooked our group amazing meals each day, and, eventually, we built a house — a home for a young couple about to have their first child." Volunteering has always been something important to Rhonda as she also spent time in inner city schools through the Big Sisters Big Brothers program as an in-school mentor for elementary children.
Rhonda is in no rush to follow Stacy into early retirement and will continue to work along side him with volunteer activities where possible. "I feel like I have been on a path to improvement and advancement my entire work life. It's exciting to think about all the opportunities and places waiting to be discovered."