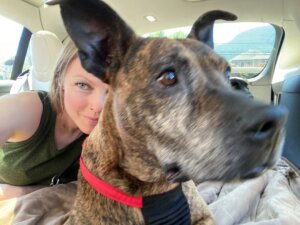 RHIAN ATKINS IS AN UNABASHED ANIMAL-RIGHTS ADVOCATE.
"Animal well-being is 100 percent my passion and focus," she says. "If I had the means to choose my work, I would start a farm sanctuary and rescue animals — specifically pigs, chickens and cows. All animals ought to be treated with the kindness we show cats and dogs."
The affable 38-year-old grew up in Sydney Australia. After high school, she completed a B.A. in physical education, health, and personal development at the Australian College of Physical Education. Rhian then moved to Mill Bay on Vancouver Island for a two-month internship at Brentwood College. After her practicum, the plan was to move to the U.K. and look for work. That move never happened, in part, because she met Mark Mensing in 2004. "We were both at a farewell event for some mutual friends. Mark was starting his company and I grew quite interested in both him and his work."
Rhian and Mark quickly became a couple, and a few years later, she started working with his company,  Canada Export Centre Corporation. Today, Rhian is the office manager. "That's my title, but I'm not too sure it's completely accurate," she says. "I do the accounting."
Rhian and Mark have been through a lot since they met, including a marriage and eight adventurous years living on a boat. "I greatly enjoy my job and am happy to continue doing what I do, surrounded by a wonderful team of employees. But it's my work with animals and promoting a vegan lifestyle that most motivates me every day."
Rhian articulates with ease, confidence, and knowledge the reasons living vegan is so important to her. "I deeply believe being vegan has a profound effect on our environment and our health. My social media channels are used to promote what I believe in with respect to the care of all animals. This is my mission. "We all ought to be working to bring something good to the world, each in our own way."
Rhian and Mark joined Terminal City Club almost 10 years ago. Because they both lead an active, health-conscious lifestyle, the Fitness Centre has always been a major attraction. "The gym is fantastic, but we mostly joined for the networking. The company was in its early days and it really felt like the right thing to do. Turns out it was the right thing to do."
At the start of the pandemic, Rhian moved to Squamish where she lives with her two dogs — one is a rescue, the other is a foster. While she misses much about living in the city, including more frequent visits to the TCC, being closer to wilderness nurtures her passion for outdoor pastimes like hiking. Despite living so far away, Rhian says neither she nor Mark considered leaving the TCC, which she calls her home in Vancouver.
"When we get to the city it is so amazing to go to the Club. We'll take staff for lunch or use the facility for meetings. We both feel safe with the COVID protocols that have been established." And the Member Services staff is always lovely, she says. For Rhian, that means a lot.
"Charles Darwin said: 'There is no fundamental difference between people and animals in their ability to feel pleasure and pain, happiness and misery.' Those are such profound and important words to live by.