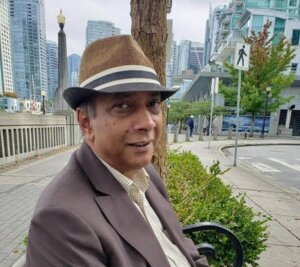 Fabian Dawson joined the TCC four years ago, though his relationship with the Club extends well beyond that time.
This affable, gregarious gentleman spent most of a stellar career in journalism at The Province, the newsroom across the street from our Lions Pub. At the end of his formal workday, Fabian would often relocate to his second office, a seat at the Lions where he would regularly entertain doctors, lawyers, forensic accountants, judges, police chiefs, politicians, diplomats, business executives, entrepreneurs, saints, angels and astronauts.
One key measure of a great journalist is the size of their Rolodex. Fabian's Rolodex has always been without equal.
Everyone knows Fabian; Fabian knows everyone. Through these contacts that he nurtured nightly over a beer or two, Fabian was able to find the news that put bad people behind bars and good people on pedestals.
Proper recognition of his exemplary career came in 2019 when the Jack Webster Foundation (recognizing excellence in British Columbia journalism) awarded Fabian its most prestigious honour: The Bruce Hutchinson Lifetime Achievement Award.
"When I left The Province in 2016, I would have considered winning 'the Hutch' something of a longshot," he says. "It was a delightful surprise – a profound honour and a highlight of my career."
It was shortly after leaving The Province Fabian decided to join the TCC. "I was still spending time in the pub, so it just seemed like the logical thing to do," he says with a laugh. "Though, seriously, I knew it was the best way to stay connected with the kind of people I wanted to associate with as I forged a new path for myself. "I networked quite successfully in the Lions, but I knew even greater networking could be accomplished as a member of TCC."
Today, Fabian continues to dabble in journalism. He is a regular contributor to a number of news publications, most frequently with SeaWestNews and the Asian Pacific Post. Fabian grew up in Malaysia and loves finding news that connects Canada to his homeland.
However, most of his work these days is outside journalism. Of late, he's been something of a matchmaker. "I work with a lot of corporate interests in Europe and the Asian Pacific region, and, of course, I'm familiar with the business interests of many Canadian companies. What I do a lot of lately is align the interests of my European and Asian Pacific contacts with the interests of my Canadian contacts in order to have both sides benefit mutually from the relationship.
"Some of this work I do from my home in Coal Harbour, but most of it is done here at TCC."
In fact, since the sudden and stunning onset of the COVID-19 pandemic, most of Fabian's life has been spent from the Club to his home and his home to the Club. "I feel safe in the bubble, here at TCC. They've done a great job attending to the well-being of the staff and the membership. And this new room – the Members' Lounge – is such an elevated and functional place to do business. The turnaround in this space is nothing short of remarkable. I mean, look at it. It used to be a room where old pool tables went to die, now it's alive and buzzing from the moment the doors open until closing time."
Fabian's affections for TCC are abundant and obvious. The result of his infectious fondness has been a steady stream of new members he's brought to the Club. As TCC General Manager Peter Jackman jokes: "It's like Fabian has decided, all by himself, he's going to keep the Club booming through the pandemic."
Hearing this, Fabian chuckles, and in his usual modest way, states clearly: "It's a pretty easy sell."
Like all of us, Fabian and his partner Samantha are anxiously awaiting a return to normal so they can get on with resuming the life they had, a life of frequent travel throughout Europe and Asia. When asked if he'll be taking the vaccine when it is made available, Fabian laughingly says: "I am thinking of getting a tattoo on my arm that says, 'insert vaccine here'."
Until that time, life remains a contented, safe and productive beeline between his Coal Harbour home and his second home, Terminal City Club.